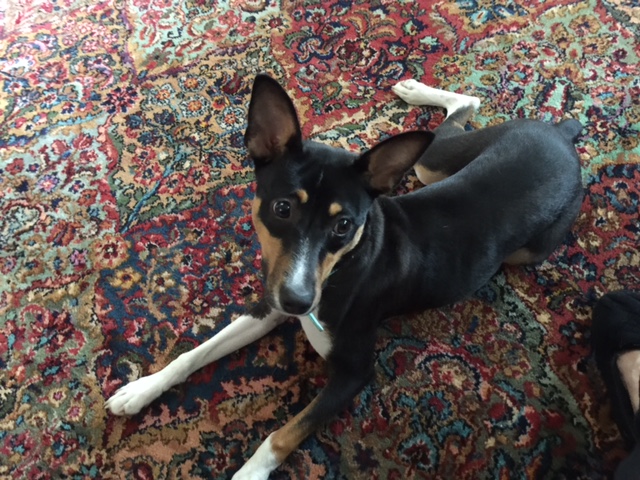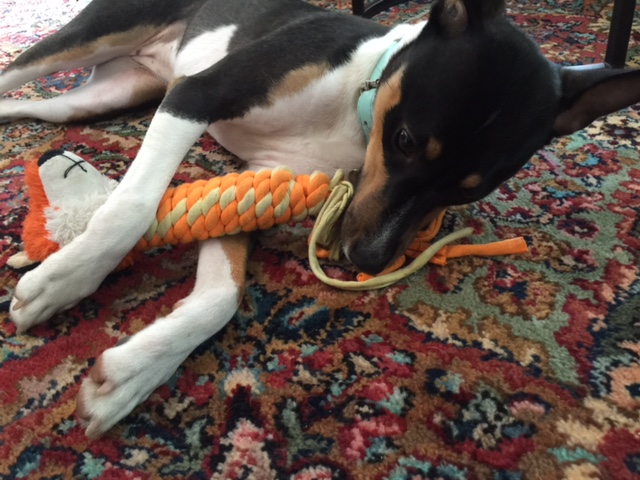 Lexi is a beautiful 20 lb. rat terrier who had been purchased in a puppy mill. We estimate her to be about 10 months (as of July, 2016). Lexi is a sleek, beautiful dog who runs fast, loves the dog park, and plays nicely in the house. She likes to chase, fetch, and play with toys and has a healthy appetite for chewing – she enjoys lots of bones and chewy toys like Kongs.
Lexi originally lived with our daughter, but she inherited another dog and could only handle one at a time in her small apartment. So Lexi came to live with us, a retired couple. When she first arrived she was a bit hesitant. But was soon running outdoors and chasing squirrels down the driveway. We are looking for a new family because we do not have a fenced yard, and Lexi likes to roam, investigate, and pick up things. Although Lexi has never run away, she does like to visit neighbors and sneak away with random dog toys –she always returns to the back door.
For most of her life Lexi has stayed with adults. She typically has a gentle disposition, but on occasions when she has had the opportunity to play with neighborhood children she seems a bit mouthy. She doesn't bark a lot, but will yip when she is put in a closed room away from human contact.
Lexi is house-trained, spayed, and up-to-date on her shots. She also has had some in-home puppy training where she's learned to come with a clap, sit down, and not chew on the furniture. She likes other dogs; although her social life has been limited to who she meets at the dog park. She hasn't spent any time with cats. She is generally active and happy and seems okay with boarding.
We would like Lexi to find a forever home with an active owner who can take her out and let her run. She is used to staying around with us for most of the day, so she probably likes the attention. She eats well and sleeps in her crate without a problem.
It is important for us to meet Lexi's next owner, or family and, after placement, keep in touch over the next year (with occasional pictures) – like an "open adoption" – to know she is happy and just because we enjoy looking at her. We want to have a sort of "open adoption" for a year or so. We live in Owings Mills and would like to have her somewhere nearby; a couple of hours, or less, by car. We think the best plan would be to meet with the new owner or family first, and then come back a couple of times with Lexi and do some playdates, and eventually make the transfer.
We aren't asking for money, but we would like to have a $100 donation to our favorite charity. You can reach us at our home phone, 410-356-5515 or contact by email: kshiota@verizon.net. Thanks! Kathy and Shiota